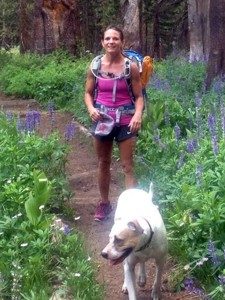 Lisa Renschen
Lisa has been an ACE Certified Personal Trainer since 1997 and a USA Weightlifting Certified Club Coach since 2002. She received her Advanced Weightlifting and Sports Performance Coach certification from USA Weightlifting in 2017. She has competed nationally in both olympic weightlifting and bodybuilding. Some of her accomplishments include:
Current U.S. National Masters record holder in the clean & jerk (67kg/147.7lbs) and total (117kg/257.9lbs) in the 48kg weight class, 45-49 age group.
Grand Master Female (best female weightlifter in all age groups and all weight classes), Pan American Masters Championships, 2011.
NPC California State Bodybuilding Champion, lightweight division, 1998.
When she's not in the gym, you can find her out on the trails, hiking and mountain biking in summer and skate skiing, striding and telemark skiing in winter.
---
Nick Ramsey
I have been in the weight room for quite a while. What started as a decision to take control of my health, change my appearance, and boost my confidence has turned into a passion for strength, mind-muscle connection, and controlled-quality movement.  I am a firm believer in the idea that there is not a 'one size fits all" mentality when it comes to the health and fitness world. We all have ideal diets, goals and exercises that are absolutely individual. I really enjoy my philosophy on training, and only hope that you can take bits and pieces from my experience and benefit from them.
I am here to help you figure out your 'why', and grow from it. We will also, together, find your weaknesses and absolutely demolish them, as you are only as strong as your weakest link.
If you are a gym-rat, great! If you are an endurance athlete, great! If you are a back country – junkie, sweet! We can all benefit from a little time spent strengthening our bodies.
Let's get strong, and live life as our best versions of ourselves.
Experience and Certifications:
ACE Certified Personal Trainer
AASI Certified Snowboard Coach
USAW Competitive Weghtlifter (Snatch, Clean and Jerk)
PWA Record Holder (77kg Men Snatch : 125kg)
USPA Competitive Powerlifter (Bench, Squat, Deadlift)
USPA World Qualifier 2014
IPL Worlds 2014
NCAA Track and Field